Dennis Halft OP veröffentlicht neuen Beitrag auf dem Blog "Biblia Arabica"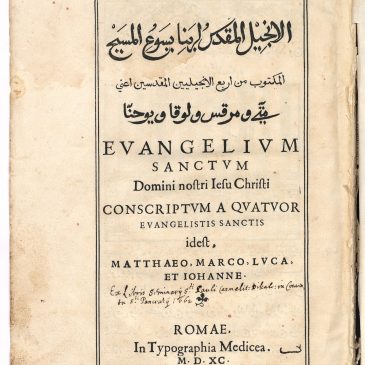 Abb.: R.G. Bibbia II 116, S. 1 © 2020 Biblioteca Apostolica Vaticana -
Titelseite eines Evangeliendrucks in arabischer Übersetzung (Ausschnitt).
Reproduced by permission of Biblioteca Apostolica Vaticana,
with all rights reserved.
[04.02.2020] Neben Juden und Christen haben auch Muslime über Jahrhunderte biblische Texte gelesen und interpretiert. In eine solche schiitisch-muslimische Lesart der Verklärung Jesu (Mt 17,1-13; Mk 9,2-13; Lk 9,28-36) führt Dr. Dennis Halft OP, Mag. Theol. (Martin Buber Society of Fellows in the Humanities and Social Sciences at the Hebrew University, Jerusalem / Institut M.-Dominique Chenu Berlin) ein.
Lesen Sie den englischen Beitrag online auf dem Blog "Biblia Arabica: The Bible in Arabic among Jews, Christians and Muslims": https://biblia-arabica.com/shi%ca%bfite-muslim-exegesis-of-the-bible-in-early-modern-iran-sayyid-a%e1%b8%a5mad-%ca%bfalavi-and-his-interpretation-of-elijah/